For a limited time, Adobe is offering two months free when you subscribe to Adobe Creative Cloud and pay for a year upfront. 
This special deal applies to both Individual and Student Teacher (STE) licenses, so it's a great time to sign up before the new school term begins.
With Adobe Creative Cloud, you'll get unlimited access to Adobe Photoshop, Lightroom, Premiere Pro, Illustrator, InDesign and many others. You'll also receive 10GB cloud storage, plus access to Adobe Fonts, Adobe Portfolio and Adobe Spark with premium features.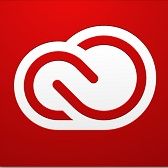 Adobe Creative Cloud All Apps | Two months free
Get unlimited access to Adobe's full suite of creative apps, including Photoshop, Lightworks, Elements, Premiere Pro and many more, plus 10GB cloud storage. Adobe is offering two months free when you sign up for a year in advance. Deal ends August 30.View Deal
This is a particularly generous offer from Adobe, and it's unusual to see the Student Teacher subscription included in a sale. The deal ends on August 30.